Seattle IT Services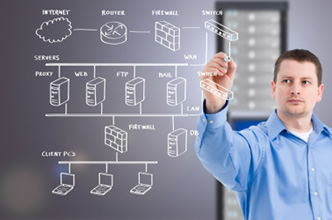 Brian Burnett is a leading Seattle IT Consultant providing IT solutions to small and medium businesses in Seattle and surrounding areas. Providing support and management of the computer and network infrastructure, he enable business owners to focus on what they should be focused on: generating revenue.
Brian deploys and supports the following IT solutions:
VPN for remote network and server access
Windows 7 migrations
Deploy new and extend existing phone and data cabling (Cat5e, Cat6, fiber)
T1's, VPNs, and leased fiber to link remote office networks together
Small business servers for managing file storage, e-mail and other business productivity applications
Deploy and support mobile devices – Windows Mobile, iPhone, Blackberry
Centrally managed Anti-virus, & Anti-Spyware services that don't bog your system down
Spam, virus/spyware removal and prevention
Extend the life of existing laptops, desktops and servers through maintenance, upgrades and repair
Small business network equipment: routers, switches, WiFi gear
Sourcing and deploying CAD and other high performance workstations
Deploying SSD hard drive technologies, for high performance and mobile computing
Secure WiFi networks
In house or Hosted Exchange e-mail servers, and Google Apps e-mail.
Data backup, restore and data recovery solutions
Additional IT services that Brian provides:
Optimize computer and network systems to increase performance, throughput and availability of equipment. This minimizes downtime, increases the speed and reliability of computer and data access, and can ultimately improve user productivity.
Source and manage 3rd party equipment services and vendors
IT Project Management
Supplemental or temporary IT staffing
Network and Server consolidation
Network security consulting and event related security sweeps
Brian's clients list includes businesses in the following industries:
eCommerce
R&D and Manufacturing
Software development
Environmental Services
Water Remediation
Architecture
Healthcare Services
Get started on your business IT solution today by contacting Brian Burnett, your Seattle IT Consultant.